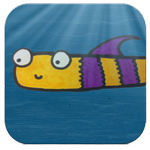 Squiggle Fish
Kids' paper drawings brought to life
App of the week - The Guardian
SquiggleFish is a unique kids' app which encourages imagination and creativity by bringing paper-based drawings to life.
Draw colourful fish and underwater creatures on paper then hold your iPad over them and watch them come to life and swim off into the sea.
Create as many weird and wonderful creatures as your pen and paper allows then experiment with different materials such as pencils, fabric cut-outs and even your favourite toy.
Collaborate with your friends by each drawing a fish and adding it to your SquiggleFish world.
"If you buy one iPad app for your kids today, make it SquiggleFish. It's a brilliant, creative idea that its developer Stripey Design should be thoroughly proud of." - Apps Playground
Check out these tips for achieving the best results:
- Use a thick black felt pen.
- Draw your fish with a complete, unbroken outline. No gaps!
- Colour your fish in.
- Use plain white paper and leave plenty of space around your fish.
- Make sure you have plenty of light and there are no shadows over your paper.
- Swipe down to activate the camera and hold the iPad very still over your fish.
- If your fish is being silly and swimming backwards, tap it and click on the button on the bottom left.
- The button on the bottom right can be used to delete a fish.
Best creative app - The Guardian 50 best apps for kids